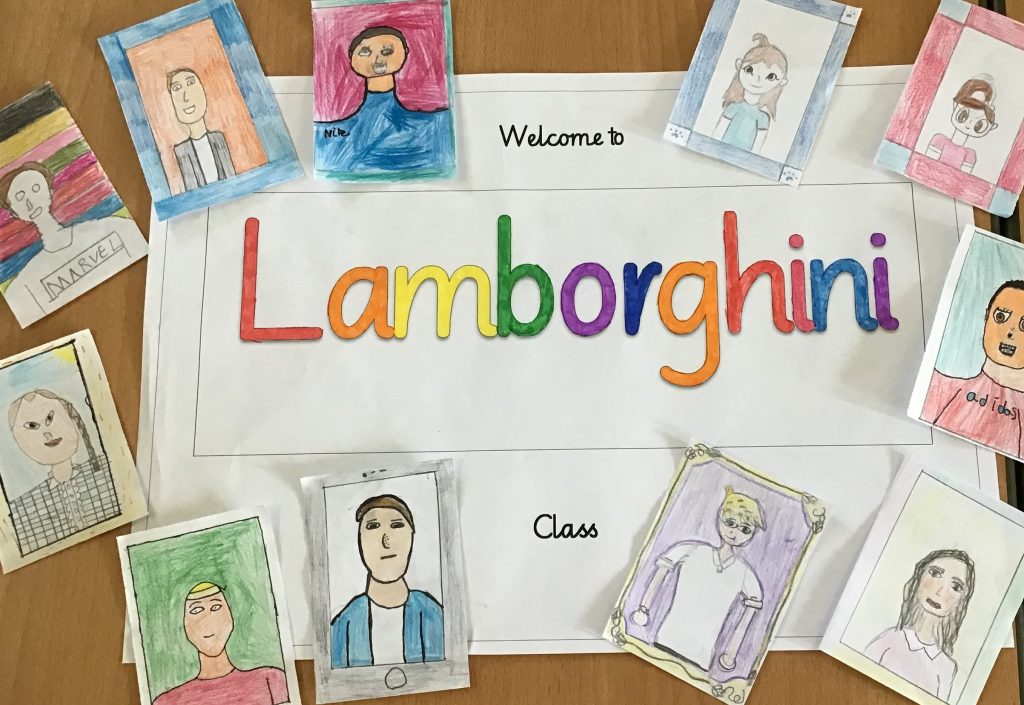 Lamborghini Class is home to the Year 5 and Year 6 children. Our classroom is on the ground floor of Villa Victoria. Take a look at the photographs of our learning environment.
Meet the staff in Lamborghini Class
Miss Andrews
Hello! I teach Lamborghini Class from Monday to Thursday. I've been teaching at the school for the last 4 and a half years and love living in Italy because of the wonderful learning opportunities we have on our doorstep.
Mrs Page
Welcome everyone. I teach Lamborghini Class every Friday. Our learning focuses on topic, English, maths and PE.
Mrs Taylor
Hello! My name is Mrs Taylor and I'm the Learning Support Assistant for Lamborghini. I live in Lago Patria with my husband and have two sons aged 18 & 21. Some of my favourite things are roast dinners, orange matchmakers and Star Wars.
Miss Coole
I teach in Lamborghini Class on a Thursday morning. On Thursdays I teach Music, RE, English and maths.
Lamborghini Class information
Our current topic
We are currently learning about the Victorians in a topic known as Revolution. You can download the topic web below to find out details of our curriculum areas this half term.
PE
We have PE lessons each week on a Tuesday and a Friday. Please could the children have their PE kits in school on those days. As the field is damp at this time of the year, the children need a separate pair of training shoes to use during PE lessons so they are not wearing their duty shoes in the classroom. It is also quite chilly now so the children might like to wear a track suit – thank you.
Daily equipment
Please could the children come to school each day with a water bottle, named coat, face mask and snack. It is important that they wear a coat each day so that we can go outside even if it is raining a little bit.
In the warmer months, please could the children apply sun cream and mosquito repellant before coming to school each morning.
Home learning
Home learning is published each Thursday on eSchools. Children are asked to complete their learning by the following Wednesday. Children are set Maths and spelling tasks using our online learning sites. They are also asked to complete a piece of topic learning from the suggested activities which is available from eSchools.
We also ask that the children read for a minimum of 15 minutes each each day and record their reading on the Go Read App.
Weekly News Updates …
Autumn Term 2021 – Second half
Weekly News – Week ending 26/11/21
Despite the weather being awful this week, we have managed to enjoy getting outside for some of our breaktimes. We were lucky that on Tuesday we were able to have our football lesson on the field to practise passing and striking at the goal.
In the classroom, we drafted and re-drafted our own versions Jim's escape from the workhouse based on Berlie Doherty's book – Street Child. When re-drafting we made sure that there were references to the conditions in the workhouse so that our narratives sounded realistic, and that little details – such as the character's speech – sounded authentic. We were very proud of the efforts the children put into improving their writing.
In maths we widened our knowledge of division methods by starting to use the formal method for long division when dividing larger numbers by a TU number. It is quite a tricky method because it uses multiplication, subtraction and division all together! One of the most challenging aspects is that you need to find the multiplies of TU numbers such as 19 or 24. We discussed strategies for quickly finding the multiples of different numbers. Have a look at the photos for an example of how we have started to learn how to use long division.
In our Monday topic lesson, we learnt about some of the different jobs poor Victorian children had to do. It was shocking to hear that little children, as young as three, were working as chimney sweeps. When considering which jobs the children would have wanted to do if they were alive in Victorian times, many chose to be a bird scarer, because although it might have been boring, you were out in the countryside. Working in the coal mines sounded one of the worst and hardest jobs as the children faced horrendous conditions and their health was severely affected; life expectancy was 25 years old for mine workers. Another fact that made us stop and think is that from our research, we could see that there are street children in the world today doing very similar jobs to the children in Victorian times. It made us realise how lucky we actually are.
In our science lessons we continued learning about the lifecycles of plants by looking specifically at the lifecycle of flowering plants. We learnt about the stages in the lifecycle and then learnt the names of the male and female parts of a flower. Once we had this knowledge, we were able to dissect real flowers to find the different parts.
With Mrs Page, we researched a famous Victorian and wrote biographies about them. These included Charles Dickens and Queen Victoria. We also began some preparation for our Victorian School Day next week by finding out, using secondary sources of information, what the school was like. The children are very much looking forward to taking a step back in time on Monday and getting a feel for what school life might have been like.
Weekly News – Week ending 19/11/21
In English we read some more chapters of Street Child and learnt that Jim Jarvis is planning to escape from the awful workhouse conditions. We did some research about life in the workhouse by using floor plans and the information on the Internet. We discovered that conditions in the workhouses were thought be worse than that of prison! We then created our own escape plans for Jim and wrote them down in a secret diary.
In maths, our learning about the four operations has continued and we have looked specifically at using the short division method to divide up to 4-digits by 1 number. Some of us also began to experiment using the method to divide by 2-digit numbers.
In our topic lesson, we added to our Victorian chronology knowledge by looking at the significant inventions over the Victorian period including the first petrol car; the first flushing public toilet and the electric light bulb. We then used this information in our computing lesson because this half term, we are going to create our own digital adverts about one of the items invented in the Victorian times!
Friday was a great day as we got to dress up in our own clothes in support of Children in Need. In our PE lesson, we did the Joe Wicks Children in Need special PE workout. In our topic lesson, we completed our research about the daily life of a housemaid and then moved onto looking at the working conditions of children in a match factory using secondary historical information. We then used this information to write a letter to a Minister of Parliament to campaign for a change in working conditions. In our art lesson, we began to look at Victorian housing.
Weekly News – Week ending 12/11/21
Our story, Street Child, has gripped us this week as the main character, Jim, and his family have found themselves evicted from their room as their Ma is too sick to work and cannot pay the rent. We explored some of the events from the plot using drama which was lots of fun.
In maths we have been using various methods to multiply up to 4-digit numbers by 2-digit numbers. We used the base 10 apparatus and the grid method before finally moving onto the formal method of multiplication. The photos below show some examples of the methods we have used.
We enjoyed getting outside for our football PE lesson when the rain finally stopped and played a great team game practising our dribbling, attacking and defending skills.
With Mrs Page on Friday, we wrote and presented our poems for Remembrance Day. They are very emotional and look fantastic. They, along with our artwork, will be displayed at Villa Rosa at the weekend for the community Remembrance day.
Weekly News – Week ending 5/11/21
It was lovely to be back in school to hear about all of the exciting activities the children had been doing over the holiday. We had a challenging week as the weather was so poor and many of our breaktimes were inside because of the rain.
In our learning, we began a new history based topic with the title 'Revolution' which is all about the Victorian period. Our English and computing lessons link in with our topic to maximise our learning time.
In English, we began reading the novel Street Child, by Berlie Doherty, which is set in Victorian times. We used the literal evidence in the text to find out about Victorian life and inferred what it would have been like to be a child during the time.
We are continuing our four operations learning in maths. Over the next couple of weeks we will be exploring the methods we use for multiplication. This week we focussed on using the formal method of short multiplication.
Miss Andrews and Mrs Page very much enjoyed meeting with some of the parents during our initial round of Parent Meetings and we look forward to finishing the meetings off next week.
Autumn Term 2021 – First half
Our topic was 'Hola Mexico'. It was a history/geography based topic about Mexico and the Ancient Maya.
Weekly News – Week ending 22/10/21
We had a wonderful week packed full of exciting activities at the end of our Hola Mexico! topic. On Tuesday, we had a cooking session making Mexican foods of chicken fajitas with guacamole and tomato salsa. Have a look at the photos below of the cooking process and us enjoying our freshly cooked foods.
On Thursday we invited our parents in to share our Mexican dances and musical compositions we have been working on over the weeks. It was a little bit nerve wracking to perform in front of an audience but lots of fun! Thank you to everyone that came along. The photos below show us in action.
We also managed to finish our Day of the Dead masks. They look fantastic and now have pride of place on display in the classroom.
Weekly News – Week ending 15/10/21
This week we have finally finished drafting, editing and finalising our short stories! We are really proud of them and have written them up into a published version so that we can put them together into a class 'Book of Hopes'.
As part of our end of half term assessments in maths, we completed arithmetic and problem solving questions. Everyone tried their very best – Well Done!
In Italian, we have been practising lots of vocabulary over the last few weeks to practise explaining the clothes people wear and what they look like. Kaela gave us some different parts of sentences, and we needed to work together to build up sentences and say them aloud. It was quite tricky but great practise.
Our science lesson was exciting this week as we learnt about the discovery Isaac Newton made when he found that the visible spectrum was made up of seven colours. We used torches and prisms to show what happens when light is refracted when it travels through dense materials such as water, glass and plastic. We then made colour wheels to investigate the visible spectrum further.
In our topic lesson, we researched the Maya ball game so that we could understand what the rules were; why the Maya played it and where they played it. We discovered lots of interesting facts including that sometimes, the losers of the game were decapitated!
In art, we began to paint our Day of the Dead masks. We began with painting a base coat in preparation for adding the details next week.
Weekly News – Week ending 8/10/21
We had another very busy week filled with lots of fantastic learning. Our motivated bee has been flying around the room sitting with lots of different children.
In maths, we had a focus on subtraction skills. We started the week looking at mental subtraction strategies and ended the week with Mrs Page by problem solving using subtraction. In the middle of the week, we recapped using the formal method for column subtraction. We started with 4-digit numbers and the skill of exchanging. Once we were confident with this, we were able to progress onto using larger numbers.
In English, we started the week planning and writing poems based on the theme of 'Hope'. We used art work, stories and a thesaurus to capture our ideas on the theme and then used these to draft sentences which were put together to write poems. Four of our poems were chosen to go into an MOD Schools anthology which is being organised by a secondary teacher in Cyprus. They are attached for you to read.
After we had completed our poems, we began drafting our short stories. The room was silent when the children were writing as they were so engrossed in what they were doing! We will finish them next week.
In our topic lesson, we were using an atlas and internet based maps to locate some of the Ancient Maya sites, modern Mexican cities and rivers. In science we were using torches and prisms to demonstrate how light can be refracted to show that light is made up of colours.
We had a fantastic cricket lesson once the rain had stopped on Wednesday. We were playing a game of pairs cricket with the children taking control of the bowling. There were so many excellent examples of the skills we have been practising over the week; Lucy bowled an amazing overarm bowl and took a wicket. The game was so close and very carefully fielded; the winning team only won by one point!
With Mrs Page on Friday, in addition to our normal lessons, we went across to the Foundation Stage to take part in reciprocal reading with the younger children.
Weekly News – Week ending 1/10/21
We started a new unit of learning in maths all based on the 4 operations (addition, subtraction, multiplication and division). In our learning this week, we have focused on the skills of mental addition and formal column addition. We all did very well at this and felt confident!
In English, we finalised our ideas for where our short stories will take place and developed noun phrases to describe them. The stories all sound incredibly exciting; we were taken on a whirlwind of adventures ranging from the North Pole to the desert! We are looking forward to beginning drafting our stories next week.
In science, we had a very practical lesson and turned old cereal packets into working periscopes using mirrors. We drew diagrams to show how a periscope works and used our finished products to view items in the classroom.
In our topic learning this week, we used photographs of secondary historical sources to consider what they can tell us about the life of the Maya. We are very impressed with how the Maya used the natural resources in their local areas to make pottery and even balls made from latex. Once of the biggest areas we are interested in learning about is the Mayan ball game. The Mayan's constructed huge arenas from limestone in which to play their game. We also finished off our research and sketchbook pages all about the influential Mexican artist, Frida Kahlo.
With Mrs Page on Friday we researched Mayan gods and chose two that we were the most interested in to research and present information about. We then used this information to start drafting a poem about one of the gods. We practised our Mexican dances ready for our performance at the end of this half term.
Weekly News – Week ending 24/9/21
We developed our place value knowledge further this week by calculating with negative numbers and Roman numerals. Both of these areas of maths are used in real-life for practical reasons such as understanding the weather/ temperatures, whether or not our bank balances are in credit! and when telling the time as many clocks use Roman Numerals.
In English, we have planned our own short story plots and characters and are all ready for developing the settings next week. In the development of plot and character, we used some drama techniques such as hot seating and conscience alley to help us to understand how authors use a range of techniques to show us important information about a character without telling us lots of facts.
In science we learnt that light reflects off of objects so that we can see. We set up models to demonstrate how we can see and how light reflects.
With Mrs Page on Friday, we read the Mayan creation myth 'Uxmal Dwarf' and used storyboards to sequence the main events. In computing our learning links to our Mexico topic aswell; we have started to create Mayan glyphs.
Weekly News – Week ending 17/9/21
We have continued our place value learning this week by learning/recapping the skills of rounding starting by rounding to the nearest 10, 100 and 1000 and progressing to rounding to millions. Rounding can be very tricky as there are lots of different rules to remember. We played a rounding game with a partner to practise the skill.
In English we looked in a bit more depth at some of the stories from 'The Book of Hopes' and focused on the skills that the authors used to create an interesting plot including using fronted adverbials, multi-clause sentences and linking the ending of the story back to the opening.
We put our research skills to the test in our topic learning by finding out about life daily life in Mexico. We researched one aspect of daily life (such as school, food, houses, transport etc) and then fed our findings back to the rest of the class. We then created our own 'Mexican Daily Life' fact pages. In art we designed our own 'Day of the Day' masks ready to paint them.
With Mrs Page on Friday, we learnt a new dance called 'The Mexican Sword Dance!' and completed our Day of the Dead invitations and edited them using the success criteria.
Weekly News
w/c 6/9/21
It's been a fantastic first full week at school and we've enjoyed getting to know each other as a new class and getting stuck into to our learning.
In maths, we have been focusing on the important skills of place value and understanding the number system in numbers to 1,000,000 (Year 5) and 10,000,000 (Year 6).
In English, before starting our new unit on 'The Book of Hopes', we had a great sort out of our class library. We reviewed all of the books we had to make sure that they were books we wanted to read.
We each chose a new reading book and had fun setting up our new profiles on the 'Go Read' app which will log our reading.
As part of our Hola Mexico! topic, we kicked off the week with a party! Listening to Mariachi music and made lemon sangrita which was just what we needed on the hot afternoon. We also did some beautiful map work to find the key geographical features of Mexico.
With Mrs Page on Friday, we completed an atlas challenge focusing on skills and geographical terminology and compass directions.
We then researched facts about the Mexican celebration 'Day of the dead' ready for our English lesson next week. In PE, we started to learn the Mexican Hat Dance!