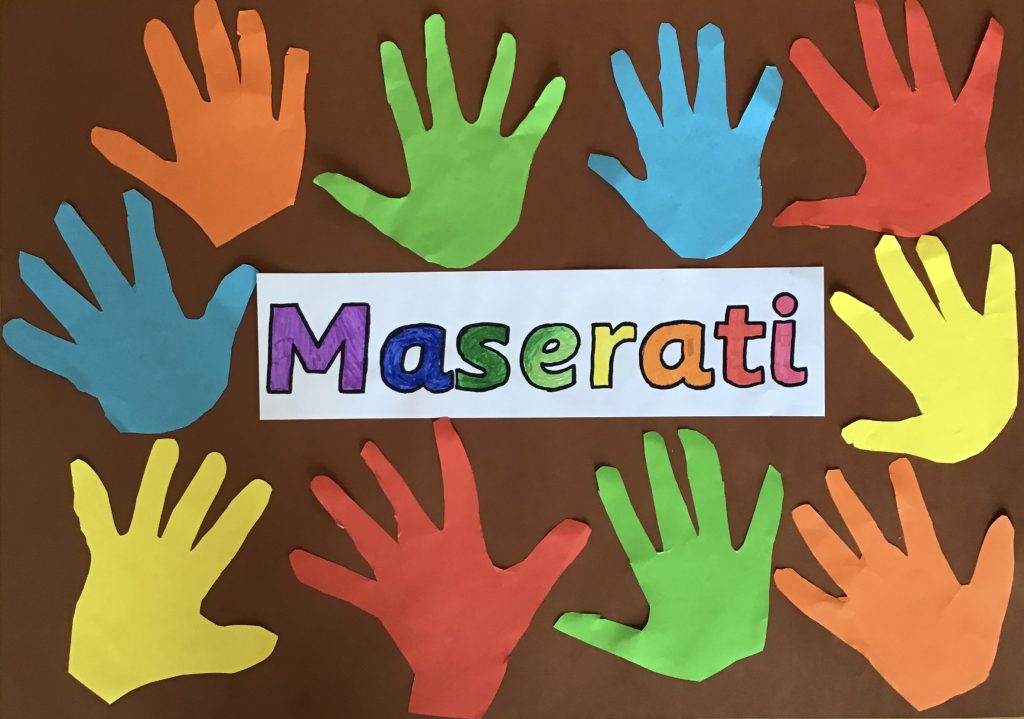 Meet the staff in Maserati Class
This year, our class teachers are Mrs Wortley and Miss Coole. Mrs Wortley teaches Maserati each morning and Miss Coole teaches in the afternoons. Our class LSA is Mrs Smith.
Mrs Wortley is the Assistant Headteacher and the SENDCO as well as teaching Maserati. She has been teaching in the school since 2015. She loves reading, listening to music and travelling in her motor home with her family.
Miss Coole, in addition to working with Maserati, is the PPA teacher across the school. She likes cooking, reading and travelling to, and exploring, new places.
Mrs Smith joined our school in the Summer term. She loves Disney, baking with her children and going out for family walks with her dog called George.
Our Classroom
Maserati class is home to Year 3 and Year 4 children. Our classroom is on the ground floor of Villa Victoria next to Lamborghini class. We hope that you enjoy looking at the photographs of our learning environment.
Topic Web
Our Timetable
PE
We have PE lessons each week on a Monday and a Friday. Please could the children have their PE kits in school on those days.
Daily equipment
Please could the children come to school each day with a water bottle, hat, face mask and snack. In the warmer months, please could the children apply sun cream and mosquito repellent before coming to school each morning.
Home learning
Home learning is published each Thursday on eSchools. Children are asked to complete their learning by the following Wednesday. Children are set Maths and spelling tasks using our online learning sites. They are also asked to complete a piece of topic learning from the suggested activities which is available from eSchools.
We also ask that the children read for a minimum of 15 minutes each each day and record their reading on the Go Read App.
Weekly News
Autumn 2nd half
– Topic 'Burps, Bottoms and Bile
Weekly News – Week ending 26/11/2021
In English this week, the children started our new unit by planning and writing their elicitation tasks about a character going on a journey. From this, the children will now be working on different skills they need to write a narrative read for our writing adventure – writing the story of a food's journey through the digestive system! To achieve this, we began by looking at an example story and picked out what it a successful, exciting narrative. We have also been exploring a wider range of technical vocabulary linked to the digestive system to help us when we write our own stories.
In Maths, we continued to work on multiplication and division. Some of our children worked on using their 4 times tables to answer questions and started working on using their 8 times table to multiply and divide. They wrote some fantastic number stories linked to their times tables as part of their learning. Some of our children completed their learning on questions linked to our 11- and 12-times tables, and have moved onto multiplying by 10 using a place value grid to help them.
As part our topic this week, we explored what healthy foods are and how we can sort foods into different groups such as carbohydrates and proteins. We then discussed the kinds of snacks we liked to eat and whether or not if they were healthy. Following this, we wanted to compare what we liked to eat with other people so we went and spoke to the children in FS2 to ask them questions about the foods and snacks they enjoy.
We have also been exploring our own teeth in more depth. After recapping the key parts of the tooth, we used mirrors to help us see how many teeth we have in our mouth and what they look like. We also used Styrofoam plates to bite into and make an indentation of our teeth to see how the mark our teeth makes changes depending on the tooth.
We have continued to work on our Christmas songs and have enjoyed singing our class song, White Christmas, accapella. As part of this, we have been exploring dynamics and how we can use our diaphragm to help us increase the volume of our singing.
Weekly News – Week ending 19/11/2021
In English this week, we have been completing our exploration of the text 'Interview with a Tiger and Other Clawed Beasts'. The children planned, drafted and wrote their own interviews but not with an animal … with a body part! The children used their research skills to find out information about the body parts they wanted to interview and used this research to write their own interview texts. The children then wrote up their interviews and decorated the pages with images linked to their body part, just like in the book.
In Maths, we started our new unit focusing on multiplication and division. First, we looked at equal grouping and looked at splitting amounts into different groups and using this to create calculations. We have been exploring different times tables and how we can use these in multiplication and division calculations, including creating multiplication and division fact families.
As part of our science topic, linked to our bodies, we looked at the different parts of the tooth in our mouth and discussed which part – the enamel – gets damaged by what we eat or drink. To investigate the effect different drinks have on our teeth, the children used eggs and placed them in a variety of drinks to see which would have the biggest impact. Over the next week, we will be observing the changes in the eggs before we make our final conclusions. We also looked at the parts of the digestive system and the order food travels through them in our bodies. Then, we compared our digestive system that of other animals so see if there were any differences or similarities. The children found it very interesting when they found out that cows have 4 stomachs to help process their food.
We have also been working on our Christmas songs in preparation for the next few weeks and it has been wonderful seeing how the children want to sing in front of others. The children have also started learning some new chords on the ukulele to develop on from the work they did with Mr Kille at the start of this half term.
Weekly News – Week ending 12/11/2021
This week in maths, we have finally finished our block about addition and subtraction. We ended the unit by learning how to estimate calculations by rounding and how to check them by using the inverse operation. We completed our end of unit assessments and we are now ready to start our next unit.
In English, we are continuing to read the book 'Interview with a Tiger and Other Clawed Beasts.' We watched a fantastic interview with Andy Seed, the author of the book. He was very inspirational to listen to and we learnt a lot about how he thinks of ideas for his books. We have also been looking at how to create expanded noun phrases and adverbial phrases to add interest to our writing.
Our Science lessons this week were very exciting – but a little bit yucky! We were investigating how saliva starts the process of digestion. We had to chew a piece of cracker, ensuring that the food was totally coated in saliva, and then spit the food out into a bowl. We then mashed a similar sized piece of the same food with water to form a pulp, placing this inn a second bowl. We left the samples then compared them. We discovered that saliva is full of digestive enzymes and the crackers that had been chewed were sloppier, more broken down and had a sweeter smell than the non-chewed foods. We have also started to learn about teeth and their different functions.
As it was Remembrance day on Thursday, we worked in pairs to create poems to reflect our understanding of the theme Remembrance. We read some famous poems and learnt about the Royal British Legion. We created a handprint wreath to hang our finished poems from.
We had a fantastic art lesson of Friday linked to our learning behaviour – collaborative learner. We have been studying the artwork of Keith Haring. Mrs Wortley challenged us to work together as a whole class to make a single piece of artwork to reflect what we had discovered so far. We had to work cooperatively, listen carefully to each other and combine our ideas to create a finished piece of art. We were very proud of what we achieved.
Weekly News – Week ending 5/11/2021
This week in English we have started to read our new text, 'Interview with a Tiger and Other Clawed Beasts'. We started by writing an imaginary interview with a famous TV or book character. We did this to show what we already know about how to write interviews. After reading some of the interviews, we discussed what we could infer and learn about the animals and how the vocabulary in the text helps to convey the personality of the character. We found the text very funny and it is one that we would highly recommend to anyone to read.

In Maths, we have been learning about written methods for subtraction. We have been learning how to use the formal column method for subtraction, including looking at what happens when a subtraction has more than one exchange. Some of us have also been using our knowledge of column subtraction and mental methods to discuss which methods are most efficient in different circumstances.
This week was also very exciting because we worked with Mr Kille and started learning how to play the ukulele! We learnt three chords and a range of songs which the children were able to sing and play confidently by the end of the week's sessions.
In Science, and topic, we began exploring our science-based topic of 'Burps, Bottoms and Bile'. We started thinking about what our topic would involve and discussing what we already knew about our teeth and digestive system, as well as what we would like to know.
As part of our art this half term, we will be exploring the work of Keith Haring which was subsequently used as inspiration in a healthy eating campaign. This week we discussed who Keith Haring was, some of his art work and began to consider how we could draw like him. We started by sketching as many stick people in different positions as we could to mimic the variety of poses used in some of Haring's work.
In preparation for Remembrance Day, we also made and painted some salt dough poppies which are going to form part of a whole school poppy display.
Autumn 1st half – Topic 'From Stone Age to Iron Age
Weekly News – Week ending 22/10/2021
This week, we have been focusing on completing our 'Tribal Tales' topic and have been trying to immerse ourselves in different aspects of Celtic life, thinking about the Celts in the Iron Age.
As part of our learning, we explored Celtic religion and mythology. The children really enjoyed learning about all the gods and goddesses – the Celts believed in over 400 of them! Celts in the Iron Age also believed that after they died they would go to the Otherworld – a place of complete happiness. The children were asked to think what they would want in their Otherworld and designed their own Otherworld islands. They then used their designs to create presentation posters of these to show on our Celtic Day.
We had lots of fun on our Celtic Day and many of the children came dressed as Celts themselves. The children used salt dough to create decorations based on different Celtic deities we had been learning about and then painted them using colours they thought would be good to represent that god or goddess and their powers. The children used the beads they had been making in their art lessons to create tribal necklaces and were excited to perform their Celtic battle dance to another class and some parents who joined us in the afternoon. They also really enjoyed making Iron Age griddle cakes however, when it came to the eating, not all the children were a fan of the taste!
Maserati finished off this topic with a 'Tribal Tales Quiz' and showed off all that they had learnt this half term! We are so proud of what they have achieved and learnt this half term and we cannot wait to start their next topic with them next half term.
Weekly News – Week ending 15/10/2021
We have had another very busy and enjoyable week in Maserati class.
In maths, we have continued our focus on addition. We started the week looking at mental addition strategies, moved on to learning the formal method of addition (including the skill of exchanging) and ended the week by solving missing number addition problems.
In English, we started our own independent writing linked to our text Marvin and Milo. We split into three groups and watched video clips that taught us how to make a battery by using either a potato, a lemon or coins. We then completed our own research about how these items work to create a battery. We discovered that although the experiments seemed very different, they all work in a very similar way turning chemical energy in between two metals into electrical energy. We have now planned, researched and made lots of notes ready for our full write up next week.
In our Science lesson, we learnt how to make a simple switch using card, paper fasteners and a paper clip. We then used our switches to create a circuit to sound a buzzer. Our switches were all very successful and could turn the buzzer on or off on demand.
We had a fantastic art lesson of Friday. We used clay to make beads for our Iron Age necklaces. We made beads of all shapes and sizes which we will be painting next week. We will then use them to create our very own necklaces.
Weekly News – Week ending 08/10/2021
In Maths, we have started our new unit 'Addition and Subtraction'. We have been learning how to add and subtract a 1s, 10, 100s, or 1000s to three and four-digit numbers. We have been using bar models, number lines and place value counters to support us with our mental calculations.
In English, we are continuing to enjoy learning about the text 'Marvin and Milo's Adventures in Science'. This week we have been learning how to use imperative verbs and causal conjunctions when writing explanation texts. We have carried out some more of the experiments – we can now tell the difference between a raw egg and a boiled egg just by spinning it! On Friday, we watched an experiment called 'Salty Circuits' and turned it into a Marvin and Milo experiment.
As part of our topic this week, we have been designing our own Otherworlds linked to Celtic mythology. Otherworlds were thought to be places of feasts and happiness and so the children have used their imagination to create their own lands based on the things that make them happy. In Computing, the children have been using an animation app to create their own digital animations where messages appear on the screen. This took some practise, as the children had to use styluses to draw their animations, however the children persevered and did a wonderful job! We have continued with our battle dances and the children have worked on creating short synchronised sequences to add to their existing piece.
Week Ending 1st October 2021
This week in English, we have started reading our new text 'Marvin and Milo's Adventures in Science'. This is a fun, cartoon style explanation text that is aimed at encouraging children to develop a love of science. We began by exploring the text and we had a super time on Friday carrying out and evaluating some of the experiments.
We have completed our place value learning this week by learning all about rounding. We have been rounding numbers to the nearest 10, 100 and 1000 as well as solving problems that involve the skill of rounding. We completed our end of topic assessments, and we were all very proud of our results.
In Science, we have completed our investigation about conductors and insulators. We have also had great fun studying iron age jewellery in Art and Design. After studying various examples of Iron Age jewellery, we have now designed our own brooches and necklaces that we will be making over the next few weeks.
In Computing, the children have been working incredibly hard on creating a range of stop motion films creating a range of different materials. They have been so creative with their use of materials and have shown real motivation for this work. In Topic, we have been exploring the Iron Age and have been linking this into our PE. We have begun creating a Celtic battle dance linked to the Iron Age and the children used images of Celtic battles as a stimulus for their battle positions. As part of both Computing and Topic, the children have done some excellent teamwork and showed a wonderful attitude to their learning
Week Ending 24th September 2021
This week in English, we have finished writing our stories based on our model text 'Daphne and the Doughnuts'. We planned, drafted and wrote our stories before sharing them with each other. We were all very proud of our finished stories and we hope to make them into a class book.
We have continued our place value learning this week by learning all about Roman numerals. We thought about where we see Roman numerals in everyday life and why they are useful. We then learnt how to read and write them – some of us even managed to write numbers up to 1000!
In Science, we are continuing to learn about electricity. We have started to plan out an experiment testing which materials are electrical conductors and which are electrical insulators. We have had to make predictions using knowledge that we already have and we have thought about how we will make it a fair test. We will use our plans to carry out our experiment next week and see if our predictions are correct.
In Art, we created our own Bell Beaker pottery. We had to learn how to make pinch pots and then shape them by making coils to increase the height of the pot. We then etched designs into the wet clay.
Week Ending 17th September 2021
We have continued our place value learning this week by learning/recapping the skills of comparing and ordering numbers. We have been counting forwards and backwards in 1s, 10s, 100s and 1000s and looking at how to use our place value knowledge to add together two numbers mentally.
In English, we have continued reading more stories from 'The Book of Hopes' and focused on the skills that the author used in 'Daphne and the Doughnuts' to create different effects. We have planned out stories, created our own titles for imaginary stories using alliteration and we have been learning how to use similes to describe character thoughts and feelings.
In Science, we have been continuing to learn about electricity. We learnt how to create a simple circuit to light a bulb and we experimented with what would happen if we added more bulbs into the circuit. We made lots of predictions before beginning the experiment and used our results to prove and disprove these ideas.
In topic, we have been completing our learning linked to the Stone Age by carrying out a range of practical Stone Age-based activities such as building our own Stone Circles and creating our own class cave painting. We then began to look toward the Bronze Age, creating our own questions we would like answered through our lessons and activities. The children created some wonderful cave painting themed dances in PE and finished creating their own flip books as part of our animation work in Computing.
Week Ending 10th September 2021
This week in English we have been exploring a story called 'Daphne and Doughnuts' from 'The Book of Hopes'. We started by discussing how stories about animals can link to the concept of hope and we constructed a class mind map to collect our ideas. We then noted down our own experiences of when an animal (whether real or imaginary) has made us feel better about something or has changed the way that we think. After exploring the text, we used it as a model to generate ideas for our own stories that we will begin planning next week.
In Maths, we have started out unit on Number and Place Value. We revised how to order numbers, partition numbers and played some exciting place value games.
Our topic this half term is Tribal Tales. As well as practising the historical skill of chronology, we have begun our historical exploration of the Stone Age this week by using a range of resources to find and gather information. Thinking about our Stone Age theme, we created dances showing the story of Stone Age hunters out gathering food and the children showed great creativity with using their environment in their dances.
We have begun to explore our new Computing unit where we are exploring the world of stop animation. We looked at early animation techniques and began to create our own flip book animations.
We have also started our Science topic about electricity and our RE topic 'What it means to be a Christian in the UK today'. In PSHE we have shared things that we have done that have made us proud of ourselves and we have set ourselves goals for this half-term.